Meet Our Team
Clinical Supervisors
All interns and trainees are supervised by highly experienced, licensed MFTs.
Therapist Interns & Trainees
Open Paths is staffed with twenty-plus interns and trainees at any given time and represents the community we serve in diversity, ethnicity, sexual orientation and life experience. Our team of therapists & management staff collaborate to find the best match for our clients' unique mental health needs. Listed below, these pre-licensed Marriage, Family Therapists and Professional Clinical Counselors are committed to offering services sensitively and professionally while gaining experience to become caring and skilled licensed therapists. Some areas our therapists have expertise in include, but are not limited to, LGBTQIA issues, parenting skills, trauma resolution, social anxiety disorder, and anger management.
Stacey Alexander
Marriage and Family Therapy Trainee, Supervised by Kimberly Clayborn, MFT, MFC 44162
I was born and raised in southern California, and I attended Antioch University for my Masters degree. The way I like to approach therapy is through an attachment lens. The attachments we make with our caregivers during our earliest moments in life set the path for the way we will communicate, interact and develop relationships throughout our lifetime. A person's future can be seen clearly by viewing and understanding their past interactions. I believe that through therapy, mental wounds may undergo powerful healing.
Michaela Bláhová, M.S.
Marriage and Family Trainee, Supervised by Laurie Dubin
I come originally from Czech Republic, but lived a long time in Mexico, which apart of the Western culture allows me to understand the Mexican, and Latin culture in general. I have a Master's degree in Family Therapy from Mexico and I am about to finish my Master's in Clinical Psychology at Antioch University. I provide therapy in English, Spanish and Czech. The approach I use is Jungian (Analytic) Psychology. I believe we develop symptoms mainly as a result of unconscious conflicts and early trauma. My work focusses on interpreting unconscious messages (what our unconscious is trying to communicate to us through images, dreams, fantasies etc.) and healing early trauma through a nurturing therapeutic relationship. If the conscious and unconscious are in harmony and the trauma is healed, the symptoms disappear. I am also concerned with helping people becoming their authentic self and increasingly getting closer to becoming the person they are meant to be (Jung called this process individuation). I believe that is where the true happiness lays.
Therese Clemente, M.A.
Marriage and Family Therapy Intern, IMF #81726, Supervised by Kimberly Clayborn, MFT, MFC 44162
Permanent personal change and growth in an individual comes from an encouraging, supportive, safe and empathetic environment where an individual can discover oneself and grow into a healthier being. In my therapeutic practice, I provide that environment to help others establish their goals so that they are able to feel confident to improve and live a fuller and happier life. I utilize a client centered and psychodynamic approach to help individuals address the various challenges that life and relationships often bring. I have experience working with individuals who face various mental health issues such as depression, anxiety, post traumatic stress disorder, as well as other life challenges such as grief and low self-esteem. I earned my master's degree in Counseling, with an emphasis in Marriage and Family Therapy from California State University, Northridge.
Melissa Dennis
Marriage and Family Therapy Trainee, Supervised by Clara Konzevik, MFT, MFC, 53185
We already have something in common! We both want you to find happiness. We both want you to thrive, to be successful, and to live a balanced and rewarding life. I hold a Bachelor of the Arts Degree in Criminal Justice, and I attended Brandman University for my Master's Degree in psychology. I utilize client-centered therapy, cognitive behavioral therapy, motivational interviewing and psychodynamic therapy. The most rewarding part of my life is when I am able to take the tools that we learn in the classroom and apply them to real people and real life. Our day-to-day lives can be difficult. But there is hope, and hope starts here.
Stephanie Hubbard
Marriage and Family Trainee, Supervised by Kimberly Clayborn, MFT, MFC 44162
Sometimes life feels hard: as if the world is against you. If you feel like this, there's hope. It's been my experience that therapy is a powerful tool for us to attain our greater yet to be. My approach to therapy is to give you new tools and build up the resilience you already have, even as we dig deep (when appropriate) to process the "old stuff" that might be keeping you in cycles that don't serve you. With specializations in addiction and trauma, and embracing cognitive behavioral, psychodynamic and narrative approaches, I bring a range of modalities to collaborate with my clients to help them thrive!
Kylie Kolb
Marriage and Family Trainee, Supervised by Laurie Dubin, MFT, MFC 16824
Empathy, compassion, and integrity are traits I bring to the field of psychotherapy. My goal is to help clients learn to cope in healthy ways, overcome challenges, and break through barriers in order to realize their full potential. I strive to assist clients in achieving a happier, healthier, & more productive lifestyle, while simultaneously improving relationships. I also place value on connecting with my clients, building strong working alliances, and collaborating on therapeutic goals. As a psychotherapist, I have a commitment to change. Therefore, my approach is attuned to each client's needs. My areas of experience include treating addiction, anxiety, depression, relational & co-occurring disorders. It is my belief that effective therapy instills hope and encourages clients to create a practice of gentle self-awareness. I would be honored to join you in this process.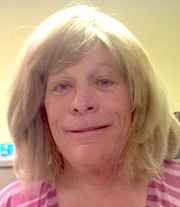 Lisa Miller, D.Min., J.D.
Marriage and Family Therapy Trainee, 
Supervised by Kendall Evans, MFT, MFC 18694 
We go through life in an attempt to find, and then to fulfill, our major purpose(s). Why am I here? How can I make my life count? In our journey, we often bump into objects and people that cause us pain and the feeling of being bogged down in the mire. It is my calling to provide both a listening ear and educated guidance to assist you as you get back up, and to reset your life's course to fulfillment. (I offer affirmative counseling in Christian and LGBTQI specializations, as well as general community counseling).
Christopher Parkhurst
Marriage and Family Trainee, Supervised by Kimberly Clayborn, MFT, MFC 44162
Sometimes life itself throws us curve-balls or puts on our shoulders heavy weight to carry. Some of us are in search of helpful solutions or new ways of thinking. Some of us desire to alter or leave behind patterns of behavior that continue to bring us sorrow. Some of us simply want a confidential, non-judgmental, and empathetic ear to vent to so we can enjoy our time with friends and family more. I work from a client centered place that includes both brief models and more long term dynamic post modern approaches.
Demitra Tsioulos
Marriage and Family Trainee, Supervised by Kendall Evans, MFT, MFC 18694
I am graduate student at Pacifica Graduate Institute. My approach is person-centered and informed by a depth psychological perspective. I honor where my client is in this moment of life and I see the therapeutic relationship as a collaborative one in which we guide each other through a process of change, growth, healing and integration. I am fluent in Greek.